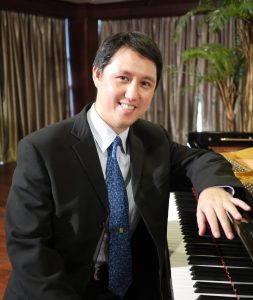 U-Jin Lim gained his Bachelor's degree at University of London Goldsmiths College, where he studied piano with Niel Immelman and Hilary Coates and composition with Edward Gregson. During his time at college, he was finalist in the Concerto competition and debut several avant-garde repertoire of contemporary composers. U-Jin commenced pianolessons at the age of seven, and during the years that followed, he received several musicalawards at state and national level for both piano and electone. Advanced diplomas in Performance and Teaching from Trinity College London and the Guildhall Schools of Music and Drama were also obtained in his secondary school years, apart from featuring in command performances given to the Malaysian Royal Family.
After graduation, U-Jin taught and performed in British schools for 2 years before returning to Malaysia. He assisted in the formation of the undergraduate music programme at the Cultural Centre of University Malaya in 1998, where he taught piano performance and theory of music for over a period of 10 years. He was also, at one time, the department's Head of Instrumental Studies and course leader for Music Theory. A study grant enabled a post-graduate degree in Music Education Research from University Malaya.
U-Jin is an adjunct lecturer in several music departments of universities in Kuala Lumpur, namely University Malaya and University Putra Malaysia and is an external examiner for various local institutions of higher education. His involvement in the music education scene also includes being a committee member of the National Accreditation Board (now known as the Malaysian Qualifications Agency) during the formation of Malaysian music accreditation framework in 1999 / 2000 and he has been involved in the curriculum review of undergraduate-level university courses.
As an adjudicator, he has been invited to sit on the judging panel of competitions and festivals in Medan, Jakarta, Bangkok, Kuala Lumpur and Sabah. He recently judged the regional finals of the Be my Rock & Pop Soul Competition in Saigon. Apart from being involved in the Malaysian music scene he has also lectured and performed in Croyden and Kent, Hong Kong, Shanghai, Bangkok, Singapore, Adelaide and Melbourne. He has been the National Manager in Malaysia for Trinity College London since 2000 and in 2013, was appointed the Regional Academic Consultant for the South-East Asia region.